Delacovadesign x LaiaAlen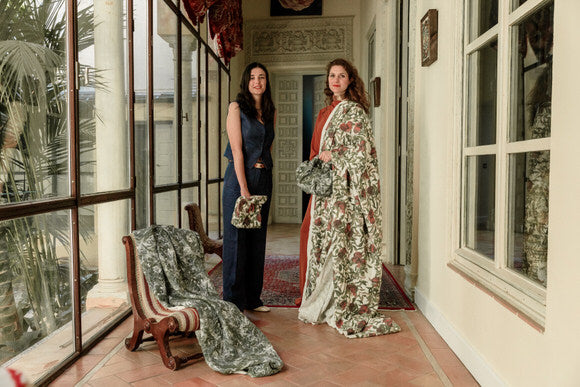 Delacova is one of the most promising pattern design brands in the current Spanish scene.
It began in 2020, focusing on wallpapers and fabrics for interior design, but has also created prints for all surfaces and materials, including collaborations with fashion, accessories, travel and porcelain brands.In the words of its creator, Vienna-based artist Cristina Moreno de la Cova, "Delacova is a project born from the desire to add colour and beauty to everyday life". The wide variety of attractive, tasteful fabrics and wallpapers are achieved using sustainable production techniques, adapting the process to minimise waste for even the smallest orders.
Each of Cristina's designs tells a different story, with an eye-catching colour palette and a stylish blend of refreshing innovation and timeless elegance. In her playful use of mixed techniques, she draws as much inspiration from her childhood in Seville as from her years in Paris, New York, London or Miami.
At Laia Alen we love to collaborate with up-and-coming chic brands that we believe that match our way of work and aesthetic.
Laia and Cristina met in Seville and based upon their mutual admiration it felt natural to create something together. Our collaboration celebrates the infinite beauty of the wilderness. We have chosen the Orange of Seville and marble prints. The first fabric chosen is a tribute to Sevilla, with its vibrant oranges and lush green leaves. The second one features and elegant marble in green palette.
We have chosen these unique prints to manufacture two of Laia Alen's iconic styles: The Mary and the Bernatta bag.  The result? Two unique bags in linen featuring gorgeous prints designed by De la Cova and manufactured by Laia Alen.
The perfect bag to add to your wardrobe this spring.